Maui is a popular holiday and spring break destination for families looking to escape the cold. There are beaches you can visit, snorkeling activities, sightseeing safaris, and ziplining adventures that you can check out. With so many options it can make it very hard to choose (especially because everyone in your family probably has an opinion about what they want to do during the limited time you have in paradise).
Here are 10 activity ideas that not only your kids will enjoy, but you will too!
Beach day
Let's start with the most obvious but most often overlooked family vacation activity: a day at the beach! You'll love it because you get some much needed R&R while soaking up the sun and sipping on a tropical My-ty. Your kids will love it whether they are 2 or 20 because they can do what they want for the day. They can swim, build sandcastles, get tan, or try out surfing. The best beaches for families according to TripAdvisor are Kamaole Beach Park, Ka'anapali Beach and Ho'okipa Beach Park.
Kamaole Beach Park is divided into three separate parks but totals 1.5 miles in length. Each beach area is divided by a rocky area. The north end of this series of beaches is the best spot for snorkeling and swimming. The south end, or Kama'ole III, is the most popular of the three. It is a great spot to hang out if you like to boogie board.
Ka'anapali Beach is a great spot to be if you enjoy swimming and cliff diving. It is located in a very convenient spot- right by all of the major resorts in Ka'anapali. So, you can get there without driving very far or driving at all.
Ho'okipa Beach Park is located along the Road to Hana. Giant Hawaiian Sea Tutles love this beach. They are quite an amazing site. Hanging out at the beach and watching these amazing creatures come ashore is an experience your family will never forget.
Molokini snorkeling tour
The Molokini Crater is a very popular snorkeling and scuba diving destination for people of all ages. Hundreds of species of fish and coral call the crater home. The crater is a crescent-shaped volcanic crater that is partially submerged in the ocean just off the island of Maui. It is such a popular place to dive and snorkel because the shape of the crater protects divers from waves and powerful currents. The crater has been a Marine Life Conservation District since 1977.
Hana Highway Tour 
The Road to Hana is a well-known adventure on Maui. If you are looking at embarking on this journey with your family, you have probably noticed that there are a few decisions to make. For example, will you be renting a car and driving yourself or do you want to take a guided tour? If you are leaning towards driving yourself you may want to think twice about that choice. The rough, winding and narrow road that is the Road to Hana is not for the faint of heart. You will want a vehicle with 4-wheel drive for some sections and you will definitely want to choose a good driver for the whole trip. But the downside to being chosen as the designated family driver for the day means that you will most likely miss out on taking in all of the beauty that lived around every corner since you will be so focused on the road.
If you opt to take a guided tour again there are a lot of benefits including the fact that everyone in your family will get to enjoy the breathtaking views. Skyline Hawaii's Road to Hana Tour is a new tour this year but is already getting raving reviews! The great guides, amazing sites, and convenient hotel pickup options across the island make it a winning tour all around.
Maui Ocean Center
The Maui Ocean Center is also known as the Aquarium of Hawaii. It is located in Wailuku on maui. The Aquarium focuses on Hawaii's marine life, many of these species are found nowhere else on Earth.  
Ziplining
Skyline Eco-Adventures has tours in two locations on Maui: in Ka'anapali and on the slopes of Haleakala.
The Ka'anapali zipline location offers an 8-line course and an 11-line course. Both of which are ages 10 and up. The weight limit for both of these tours is 80 to 260 pounds.
The Haleakala zipline location offers 3 different zipline adventures for you and your family to enjoy. The 5-line zipline tour can be done by kids ages 8 and older. The weight limit for this course is 60 to 260 pounds. The Haleakala Sunrise, Bike & Zip tour is for ages 12 and up. And last but not least, the Haleakala Sunrise & Zip tour is for ages 8 and up.
Punakea Palms Coconut Farm
Punakea Palms Coconut Farm just completed some major renovations earlier this month! This farm offers coconut tasting tours where you can learn about the many ways to use a coconut tree and how to open coconuts on your own. Reservations are required for these interactive tours. Each tour lasts two hours and they offer reduced children pricing. You can learn more about this great family tour on their website.
Luau
You cannot have a full Hawaiian experience on Maui without visiting a luau. You can find Luau's almost everywhere you turn on the island, so it can be challenging to choose the best one for you and your family. Luckily, The Mercury News put together a list of the top five luaus on Maui to make this decision easier when you are planning your family vacation. The number one luau that they recommend is the Old Lahaina Luau because of the delicious all you can eat buffet with authentic Hawaiian dishes, great service, and the beautiful setting. Be sure to make reservations for this luau in advance online!
Surfing Lessons
As I'm sure you already know, Hawaii is an amazing place to surf. The problem is that the waves can be large and dangerous in some areas around Maui if you do not know how to surf. So, if you are looking for a chance to catch a wave and want to do so safely, surfing lessons are the way to go! Viator put together a list of the top places to get surfing lessons on Maui.
Haleakala National Park Sunrise Tour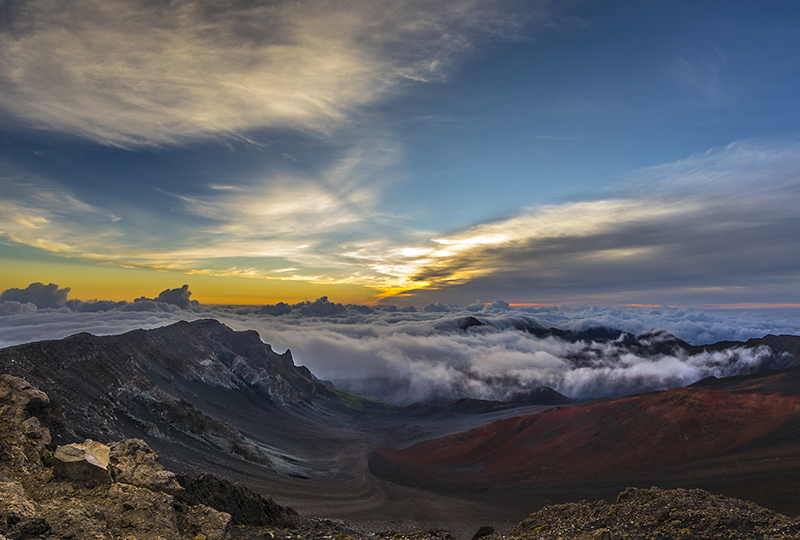 Skyline Hawaii's Classic Sunrise Tour is perfect for families and children of all ages. As part of this unforgettable tour experience, one of Skyline's professional guides will pick you up right at your hotel or accommodation and transport you to the top of Haleakala, the dormant volcano on Maui, for the best view of the sunrise that you will find on the island! Watching the sunrise at the top of Haleakala is the #1 tour experience on Maui. Because of this fact, make sure you book your tour early because spots fill up fast.
Hiking trails- Wai'anapanapa State Park
This kid-friendly hiking trail is located on the Road to Hana within Wai`anapanapa State Park and winds along Maui's beautiful coastline. If you choose to hike the whole trail, it is 2.75 miles total round trip. But, if you don't want to hike that far don't worry, there are tons of places to stop and turn around along the way. There are amazing natural landmarks like lava tubes and black rock coves located along the trail. This is a great way to spend the day outside with your family!