FUN FACT
Skyline is part of 1% For The Planet, and donates 1% of proceeds to the environment.
Haleakala Sunrise & Zipline Tour

Begin your Haleakala Sunrise & Zipline Tour near the summit of Haleakala to experience a breathtaking Maui sunrise from the top of the world.

Then continue your upcountry Maui adventure with Skyline Hawaii with a 5-line zipline tour on the slopes of Haleakala.

This eco-adventure combines the top two activities in upcountry Maui for one beautiful, thrilling, and life-affirming day.
TOUR HIGHLIGHTS
The Haleakala Sunrise: Watch with 360-degree views from the top of Haleakala at 9,740 ft over sea level, as the sun rises and the rich colors of the mountain landscape takes shape below you.
Zipline Tour: Zip over 90 ft drops and canyons filled with beautiful endemic trees that are part of Skyline's native forest restoration project. You'll also get to experience reaching speeds over 45 mph on Hawaii's only pendulum line.
Send to a friend
VIEW THE TOUR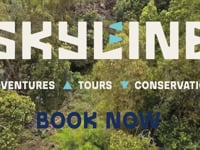 Rise with the Sun, Then Rise Up to Meet It
From a stunning sunrise at the top of the world to a 5-line zipline course, this will be a day full of thrills and memories.
REQUIREMENTS

AGE: Guests must be 8 or older, and all guests ages 8-14 must have an adult zipping in their party. A legal guardian must sign a release and waiver to allow kids under 18 to zip.

WEIGHT: Must weigh between 60-260 pounds. This requirement is strictly enforced and all participants will be weighed during the check-in process.

SCUBA DIVING: For your safety, we ask that you schedule your zipline tour more than 24 hours after any scuba diving excursion.

PHYSICAL REQUIREMENTS
Able to hike 2-2 1/2 miles at elevation over uneven surfaces
Free of chronic heart problems
Not pregnant - unfortunately, it's unsafe to zip while pregnant
You should not have had recent surgery; especially on ankles, knees, or back. If you have serious neck, back, or joint injuries, you should also check with your doctor.
The inherent risks of walking on unimproved hiking trails and joint impacts associated with zipline landings should be considered before going on a zipline tour
SAFETY
3 MILLION AND COUNTING: With over 17 years experience, and more than 3 million zipline crossings, Skyline is the most experienced zipline operator in the U.S.

TRAINED GUIDES: Every Skyline zipline guide goes through an 80-hour training process (double the industry standard) covering all aspects of equipment, safety, and operations. They then undergo weeks of additional on-the-job training before officially earning the title of Skyline Zipline Guide.

TESTED FOR SAFETY: All our equipment is tested to hold at least 5,000 pounds and each zipline cable has a minimum breaking strength of over 26,000 pounds.

INSPECTED DAILY: Each day, our trained staff thoroughly inspects all lines, platforms, trails, and equipment, and an accredited 3rd party ACCT inspector reviews all ziplines, equipment, and practices annually.
GUIDES
LEARN ABOUT AUTHENTIC HAWAII: Our guides make each tour a unique experience. Trained to uncover Hawaii's rich history and to keep you safe and smiling throughout the tour, they're experts at what they do and set Skyline apart from the rest.

TRAINED TO KEEP YOU SAFE: Every Skyline zipline guide goes through an 80-hour training process (double the industry standard) covering all aspects of equipment, safety, and operations. They then undergo weeks of additional on-the-job training before officially earning the title of Skyline Zipline Guide.
KNOW BEFORE YOU GO
PICK UP & DROP OFF: This tour starts early, so we'll pick you up at your hotel, provide you with a warm jacket, and bring you directly to the summit of Haleakalā National Park. At the end of a glorious day, we'll then drop you off at your hotel.

CLOTHING: Layer up!

For the sunrise tour, cozy jackets will be provided when you arrive at Skyline. We recommend you dress in warm layers and wear pants, a jacket or sweatshirt, socks, and closed-toe shoes so you are warm enough while viewing the sunrise. Temperatures at the summit of Haleakalā are routinely in the 30s and 40s.

For the zipline adventure, pants or shorts and a t-shirt are best.

SHOES: For your safety, we ask that you wear shoes with a fully-enclosed toe and heel, like an athletic or hiking shoe. Shoes must be snug. (No water shoes. No Teva or Keen-type sandals with open sections or 5-finger shoes.)

GLASSES: Glasses and sunglasses may be worn - just be sure to bring your strap.

CAMERA/CELLPHONE CAMERA: You will definitely want to capture the beauty of the sunrise on the top of Haleakalā, so bring your camera to the sunrise. For ziplining - we recommend that you securely strap it to yourself. There are GoPro cameras available to rent on each tour.
DITCH THE PACK: You can bring your backpack, but we'll lock it up for you while you zip.

PROTECT YOUR SKIN: Bring your reef-safe sunscreen. We also recommend wearing clothes that help block the sun.

WHAT ELSE TO BRING: A reusable water bottle and sunglasses.

WEATHER & REFUNDS: Weather at the summit can vary widely, and inclement weather can impact or limit sunrise views. Every sunrise atop Haleakalā is a unique, one of a kind experience. Some mornings are clear, while some are clouded in. Unfortunately, we cannot provide refunds based on inclement, cloudy, or rainy conditions at the summit as they are outside of Skyline Hawaii's control. But, we hope any visit to Haleakalā National Park and the summit of this legendary volcano are experiences guests will remember and revere as generations have before - even under adverse weather conditions.

INTERPRETIVE APP: Download Skyline Hawaii's Haleakalā National Park Interpretive App from the App Store or Google Play Store. It's available in nine languages (Hawaiian, Japanese, Mandarin, Korean, German, French, Spanish, Portuguese, and English) and has great info to augment what you'll hear from your tour guide!
FAQs
WHAT HAPPENS IF IT RAINS?
Tours operate rain or shine. If we do cancel, we'll make every effort to contact you in advance to reschedule or refund the tour.

WHAT IS THE CANCELLATION POLICY?
Our Hassle-Free Cancellation Policy guarantees that you receive a 100% refund for any tour cancelled at least 48 hours in advance of your tour time. For cancellations or changes made within 48 hours of your tour, refunds will only be provided if we are able to resell the spots on your tour.

IS THERE CELL SERVICE AT THE SUMMIT?
There is some cell phone reception throughout the park and at the summit, but it can be spotty.

Hours
7:00 AM - 3:00 PM (every day)

WHAT IS THE MEANING OF HALEAKALĀ?
Haleakalā means "House of the Sun."

HOW TALL IS HALEAKALĀ?
Haleakalā National Park has the highest mountain peak on Maui, at 10,023 feet over sea level.

CAN YOU ACCOMMODATE ADA REQUESTS ON THIS TOUR?
Skyline Hawaii does have ADA accessible tour vehicles available, please call our reservations team at 1.808.878.8400 for more information or to make a booking.

Have More Questions?
Feel free to give us a call at 1.808.878.8400

CONSERVATION EFFORTS
Giving 1% and More.

Skyline is the first zipline operator in the world to join 1% for the Planet—a group of businesses committed to giving at least 1% of all sales back to environmental conservation. And because we take our "Do Good. Have Fun." mantra very seriously, we also support multiple other community and health nonprofits just for good measure.


"Skyline Hawaii and Magic Dave were awesome! My wife and I took the Haleakalā Sunrise & Zip tour and loved it. Our guide, Dave, was a wealth of information and made the day fun for the entire group. The guides on the zipline tour made you feel safe and comfortable throughout the experience as well! Thanks guys!"
Zip for a better Hawaii.
Because we give annually to 1% For the Planet, every tour you take sends money to environmental nonprofits.
LEARN MORE →